Gunsmoke, the Radio Cast
Photographed by Harry Bartell at Knott's Berry Farm in 1953
Click on pictures to enlarge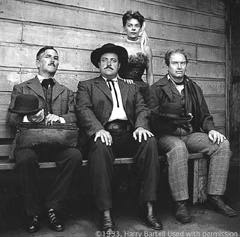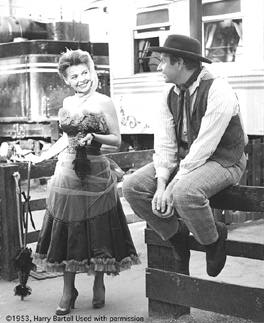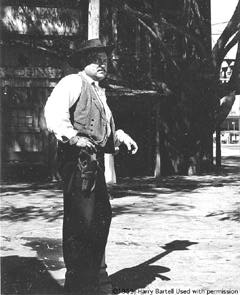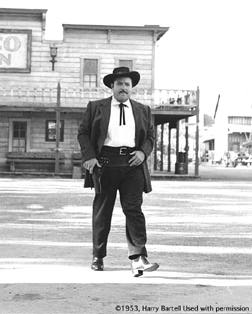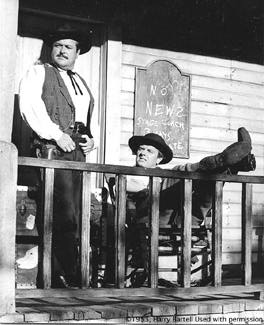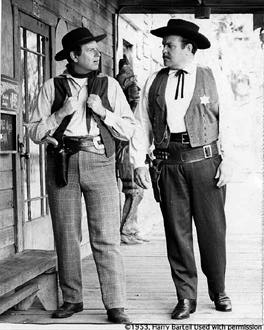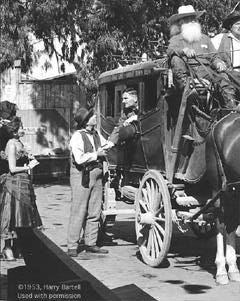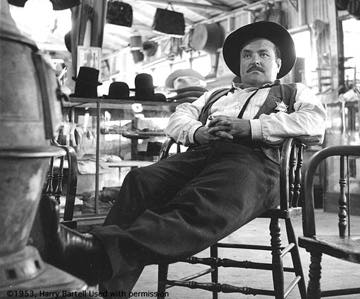 Ray Kemper, Tom Hanley and Norm Macdonnell
during a Gunsmoke rehearsal
Here are some of Harry's thoughts on the cast of Gunsmoke ... Radio vs. Television
When the rumor hit Los Angeles that Gunsmoke might go to TV, it was assumed that meant the radio cast would simply play the same roles on television. That idea immediately received a very cool reception in New York.

As a result, a campaign was launched in LA to sell their original idea. This was based on the premise that the leading characters actually looked as legitimate as could be, and with their familiarity with the roles would make an easy, smooth transition. We all know what happened. But in an all-out effort to sell the original concept it was decided that they would photograph the cast in costume and on location.

I asked Norm Macdonnell if I could go along with the CBS staff photographer and he gave permission. When he saw my proofs, he asked me to make up an album to send to NY. Actually, I made two and gave one to him.

Anyone who has looked closely at photographs of the Old West I think will agree that the radio cast looked more legitimate than the TV cast. But, they were not the Hollywood concept and above all else, we must not stray too far from the cliché!

One of the great ironies, when a John Meston script--- he only created the characters---was converted from radio to TV, Jim Arness and Milburn Stone complained that whoever wrote this thing simply did not understand the characters. So much for creators. The TV version only ran for 20 years, and of course, Arness and Stone had redrawn Matt and Doc to their own whims.
Jerry Haendiges Productions
1996 - 2004